Roger Ingles hired as new athletic director
As of the end of March, Capital University has named Roger Ingles as the next athletic director. Ingles will replace Steve Bruning, who announced that he was stepping down from the position in January of 2017. Bruning had served in the position since 2012.
For the last 33 years, Ingles has served in a number of positions at Ohio Wesleyan University (OWU) in Delaware, Ohio, beginning as the head baseball coach. In the time since his first hiring in 1984, he has also served in the OWU football and women's basketball programs. In 1994, Ingles entered administration and in 2005, he was named Head Athletic Director.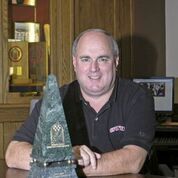 In addition to his work at OWU, Ingles also served six years as the commissioner of the Great Lakes Summer Collegiate Baseball League from 1999 to 2005.
During his time at Ohio Wesleyan, Ingles improved the athletic department and the university in numerous ways. He has increased the number of full-time staff members and brought several notable Division III championship events to the campus, among other accomplishments.
Student-athletes maintained higher grade-point averages, graduation rates, and retention than non-athletes during Ingles tenure. Due to his fundraising expertise, over $40 million was raised for athletic and recreational enhancement over the last ten years.
Ingles's scholarship resume includes a Bachelor of Arts in comprehensive social studies education and a master's degree in athletic administration and coaching.
"I am really excited to work with our coaches and staff," Ingles said of his new position at Capital, "and build on the tremendous momentum and growth of the department."
Ingles will begin his job on June 1, 2017.